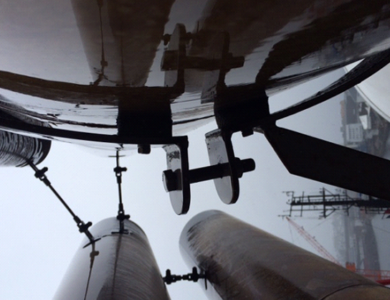 Clamping of exhaust pipes over bridge decks on AHTS vessels. During operation, vessels have over time suffered damage in the clamping of pipes.
New arrangement has been prepared with piano around pipes, blocks of sintered metal used so that hot pulling of pipes can take place without damage to clamping.
Flexible joints used between pipes.
Arrangement mounted on all exhaust pipes.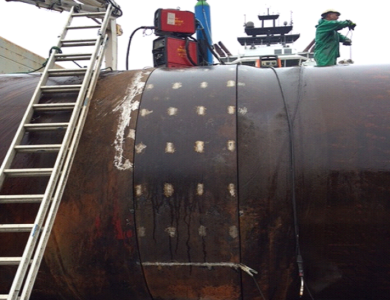 Hedge rollers on an AHTS are subject to great wear and tear when handling anchors and chains over the hedge rollers. Wear must be repaired and occasionally plate fields must be renewed.
New plate is rolled finished and prepared for assembly with slot welding.
The work was completed in one shift at the Bergen quay.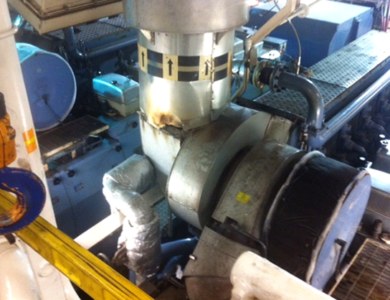 Accident on gear to control azimuth on board PSV vessels.
The plane gear with bearing etc was shattered.
Gears were dismantled and brought to a workshop where further disassembly was carried out. Gears were built up with new bearings etc in the workshop and then reassembled on board.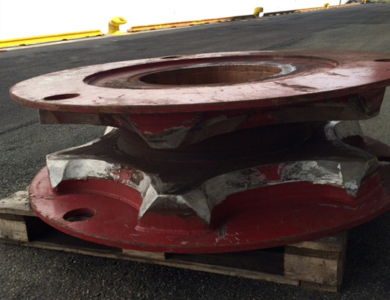 Cables are exposed to significant wear in pockets and up welding of pockets is occasionally necessary.
Execution of this type of work requires knowledge of which additive material must be used, pre-treatment of the weld areas and the operator with qualifications.
We have performed this type of work on a number of cables and with very good results.